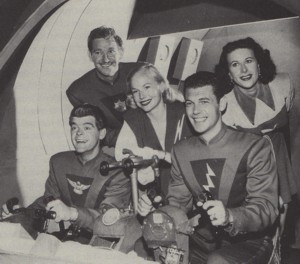 Space Patrol
: an entertaining space adventure radio program primarilly aimed at kids, starring Buzz Cory and Cadet Happy. There was also a version which simultaneously aired on television.
Broadcast History: September 18, 1950 - March 19, 1955 (129 episodes) ABC, 30 minutes, Mondays and Fridays at 5:30 pm.
"This is Earth - the year 2100. New York is the headquarters of
Space Patrol
and men from Earth, Mars and Venus live and work there as guardians of peace. This is the story of those men, whose courage and daring make the universe safe for us all."
Space Patrol
outlined the exploits of Commander Buzz Corey (Ed Kemmer), who was placed in charge of a thirtieth-century police-keeping force operating from a man-made planet known as Terra. The jurisdiction of the Patrol included Earth, Jupiter, Mars, Venus and Mercury, collectively known as the United Planets. Assisting Corey was his protégé Cadet Happy (Lyn Osborne), a youthful sidekick prone to uttering the exclamation "Smokin' rockets!"
Space Patrol
debuted as a series on television before also becoming a popular radio program. The show was one of a myriad of kiddy adventures that dotted television's landscape back in the 1950s, along with its outer space brethren
Captain Video and his Video Rangers, Rocky Jones, Space Ranger,
and
Tom Corbett, Space Cadet
. It debuted as a fifteen-minute local show on KECA-TV in Los Angeles on March 9, 1950 and made its radio debut over ABC beginning September 18th as a twice-a-week (Mondays and Fridays) offering at 5:30 pm until January 8, 1951. It then returned to radio Saturday evenings at 7:00 pm beginning on August 18th before switching to a 10:30 am morning timeslot about a month later; remaining there until its final airing on March 19, 1955. The television version ended July 2 the previous year succombing to the trendy cowboy western.
Listen:
Space Patrol Radio